Guide to Starting a Business
All businesses need expertise in the areas of accountancy, general management, marketing and / or production.
A successful business is one that clearly determines its aims, and uses its resources to achieve those aims.

Step 1 : analyse objectives
Step 2 : evaluate potential
Step 3 : determine your business structure
Step 4 : assess profitabilty
Step 5 : register business name
Tips for success
Step 1: analyse objectives
If you want to start a business, the first step is to analyse your objectives honestly.
What skills do you have and what skills can you acquire?
Will you find it interesting? (You will be spending a lot of time with the business, so it's important you enjoy it.)
What do you hope to get out of it?
What do you wish your business to achieve?
Experience shows that your business is more likely to be successful if there is a matching of your skills, experience, knowledge and interests with the business. Your business should build on your talents and be one in which you will remain enthusiastic and aware of your customers' needs. From the range of business opportunities available, choose the one that appeals to you and for which you have (or can obtain) the skills and resources needed.
Step 2: evaluate potential
The second factor in choosing the right business is to assess the value and viability of the business. To start and operate a successful business, you must first gain a thorough knowledge of the business and its customers and competitors. You will also need:
technical knowledge – how to produce a product or services
sales and marketing skills
financial ability to plan and control the money matters
capital.
If you lack any of these skills, you may need to bring in partners, employees or consultants who have them, or acquire the skills yourself. It is important to realistically appraise the business's total capital requirements, by determining:
cost of all plant and equipment the business needs
working capital requirements for stock, accounts receivable (debtors) and operating expenses such as rent, power and wages during the development period, until the business can generate sufficient cash flow from sales to become self sustaining.
Step 3: determine your business structure
The three main types of business structure* used by small businesses are:
sole trader / sole proprietor
partnership
company.
Some (but not all) of the advantages and disadvantages of the three types are set out below. It is important to choose the business structure that best suits your needs. Your accountant or solicitor can help you answer this question.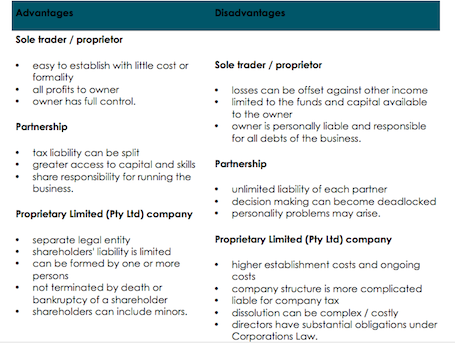 Step 4: assess profitability
Let's face it. You go into business to make a profit, that's essential if you are going to stay in business. But how can you tell whether or not you will make a profit?
There are many things that have to be taken into account in order to arrive at a fairly accurate estimate of the annual costs of running a business. When starting a new business, you will need to spend some time researching the likely costs, so that you can estimate your weekly or monthly "break-even" point.
You can use the following list of costs to help prepare your estimate. Not all costs will be applicable to every business, and depending on your particular business, there may be additional items that need to be considered.
Step 5: register business name
A business name is a trading name under which a business can operate. Registration of your business name effectively gives you the right to trade under that name in Australia.
Registration of a business name is compulsory when you trade under a name other than your own, however, it does not give you any proprietary rights to the name unless registered as a trademark.
Search for a business name – using the Australian Securities and Investments Commission National Names Index website
Register your business name – using the Australian Securities and Investments Commission 'ASIC Connect' website
Renew your business name – using the Australian Securities and Investments Commission 'ASIC Connect' website
Search for a trademark – using the Intellectual Property website
Search for a domain – using the .au Domain website.
Tips for success
Learn as much as you can about your proposed business. Ask questions. Join industry associations. Is there a need for the product or service you are going to offer?
Accept the fact that starting a business always takes more money than you anticipate.
Study successful competitors carefully.
Don't go into business with the sole objective of making a lot of money. Chances are you won't. But if you put service, quality, and customer satisfaction first – the money will follow.
Be willing to work harder and longer than you have ever worked before. Forget about the eight-hour day and the 40-hour week.
Keep complete and accurate records for tax purposes, for your banking needs, and most importantly, for your own guidance.
Ensure you have the right people for the right job.
Find a lawyer, accountant, banker, and insurance agent and confer with them as needed. Now is the time to develop these relationships.
Run it yourself. Beware of absentee ownership. No one will look after your money, your property and your business like you will.
Prepare a comprehensive business plan before investing your money into a business venture. Planning is the key to the survival of your business.